What is there to do in Manly that makes it world famous?
Manly Seaside Bliss apartment is only 100 metres from the sand. Enjoy the sunrise over the ocean, a morning run or a surf.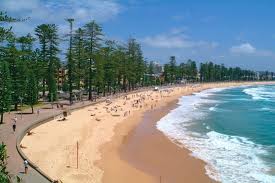 Manly Beach is a world famous beach and an Australian landmark. It is about 1.5km long with a large foreshore and golden sands. The Northern end is called Queenscliff, and has a landlocked lagoon that empties into the ocean. The centre part of this long beach is called North Steyne, and the southern end, South Steyne. Looking South from Manly Beach is Cabbage Tree Bay and Shelly Beach, connected by a picturesque foreshore path about 0.5 miles long. Look for the small sealife sculptures along here.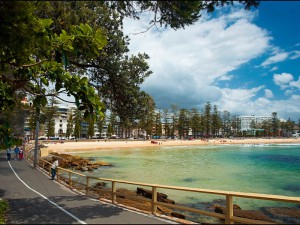 Cabbage Tree Bay was named after the Cabbage Tree Palms found there. Shelly Beach is the only west-facing beach on Australian's East coast and the bay is filled with unique marine life such as the Eastern Blue Groper, the Weedy Sea dragon, Gloomy Octopus, and Little Penguin. It is an ideal spot for scuba diving and snorkeling because of its clear and shallow waters. Shelley Beach is a haven for sun seekers and is a popular sheltered beach for families and children. For a different beach experience enjoy the sheltered sandy beach and gentle waves of Manly Cove, on the harbour side right next to the Wharf – ideal for family picnics, sailing, fishing, building sandcastles or just relaxing in the sun.
In the activities below, click on the highlighted topic name or the photo to open a new window related to that topic. Please bookmark this page for future reference.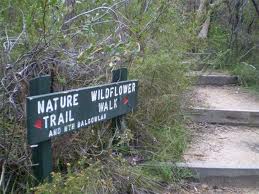 Manly Walking Tracks
are designed for a variety of ages and fitness levels. Through harbourside suburbs and native bushland, past Aboriginal landmarks and pockets of subtropical rainforest, enjoy scenic views across Sydney Harbour and the opportunity to spot migrating whales. From short, scenic strolls to more strenuous walks, regardless of which one you choose, there are many things to see along the way. There are also flat walks that are suitable for wheelchairs and prams.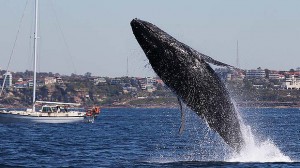 Get up close and personal to the migrating whale population. Manly Whale Watching runs cruises throughout the season.  Late morning or early afternoon are considered the best times to see the whales, as there is less glare off the water, making it easier to see the whales' tell-tale blow!
Manly is not just a great holiday destination – it's also in a perfect location to check out the annual whale migration from May to November each year.  Coastal walks in the area offer great viewing spots or hop
on a

whale-watching

to
ur for a guaranteed sighting. To spot a pod of whales, head to one of the coastal headlands around Manly or its nearby suburbs.  The North Head Sanctuary on the tip of Manly peninsula features fantastic views out to sea, and the Fairfax Walk is an easy circuit connecting three whale- watching lookouts.  From here, you can head back into Manly or take the Bluefish track to Shelly Beach.  In nearby Mosman, Bradley's Head in the Sydney Harbour National Park also offers fantastic whale watching.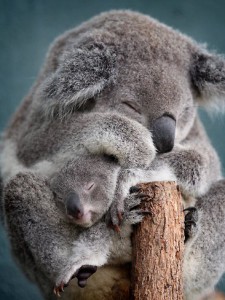 Take a ferry and visit famous Taronga Park Zoo.  Situated on spectacular Sydney Harbour, Taronga Zoo is an experience not to be missed. The Sydney Harbour Eco Hopper ferry operates services between Manly and Taronga Zoo seven days per week and the Sky Safari cable car connects the ferry to the main entrance.
Taronga Zoo is home to thousands of exotic and native species including native animals such as Kangaroos, Koalas, Tasmanian Devils, Platypus, Wombats, Wallabies, Quokkas, Emus and Crocodiles. Exotic species include rare Western Lowland Gorillas, Sumatran Tigers, Snow Leopards, Sun Bears, Chimpanzees, Giraffes, Zebras, Thai Asian Elephants. Don't miss the Seal Show featuring the stars of the Great Southern Oceans exhibit. This show is a lively, informative look at marine wildlife. Or enjoy Taronga's iconic Free Flight Bird Show at the amphitheatre offering panoramic harbour views as you watch the birds fly swiftly over your head! Also, Taronga Zoo offers up to 20 free keeper talks and animal shows throughout the day.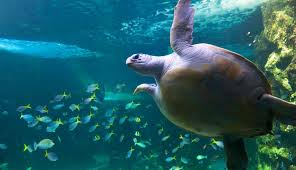 Snorkel or scuba the Manly Marine Reserve.  Manly's beautiful Shelly Beach, abundant with marine life, is protected from the ocean swell by a reef on the right hand side of the beach – this means conditions are almost always calm with good visibility. The maximum depth is around 12 metres, but with many shallower depths ranging from 2 to 6 metres, it is an excellent site for divers and snorkellers alike.
Since becoming a Marine Reserve in March 2002, Shelly Beach is home to a huge array of underwater species including wobbegong and Port Jackson sharks (they won't bite!!), the big beautiful blue groper (they love to follow you around) and loads of big schools of fish. Whether this is your first or one hundredth underwater experience your guaranteed to see some spectacular life!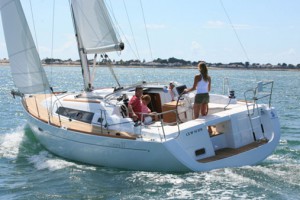 Sail the harbour on a
skippered cruise
.  Sydney Harbour and it surrounds is often referred to as the most beautiful natural harbour in the world. Those who come to see it will understand why. The 240 kilometres of shoreline encompass approximately 54 square kilometres of water, which is an enormous expanse to explore and discover.  On a warm sunny day, the harbour is a vibrant blue and dotted with hundreds of sailing boats, cruise boats and ferries. Whether you choose to sail past the iconic Opera House and under the majestic Sydney Harbour Bridge or just drop anchor in one of the many bays, you can be sure it will be a memorable day of sailing. You can choose to either "learn the ropes" and sail the boat under the watchful eye of your experienced skipper or just sit back and relax.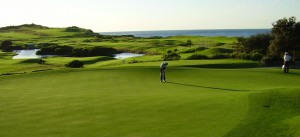 When the name "Manly" is heard, most people conjure thoughts of white, sandy beaches beckoning the Pacific Ocean's waves! But there are some excellent public golf courses in the Manly area, as well as the private Manly Golf Club which is open to members and invited guests only. The Warringah course is one of the busiest in Sydney as it is a favourite course for thousands of social golfers each year. It is a challenging, parklands style picturesque course that provides a fair test for all standards of golfers from "occasional" to "regular" playing golfers.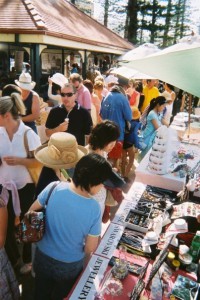 Find local treasure at the weekend markets.  The laneways of Sydney Road and Market Lane, right in the heart of Manly, transform into a hive of activity every Saturday and Sunday as locally made, baked and grown produce is enjoyed by locals and visitors alike.  Experience the family friendly atmosphere with whimsical entertainment for young and old. Soak up the surrounds of inspiring boutique shops, bars and restaurants in and around our local seaside village. Manly Market Place is open every Saturday and Sunday 9am-5pm.
Stroll to the pedestrian mall, the Corso, and shop for gifts for friends at home. Along the famous Corso, discovered in hidden laneways or at the weekend outdoor markets, find fashion, food, homewares, giftware and all things lifestyle. Shop for beauty, jewellery and art, and toys for the young and young at heart.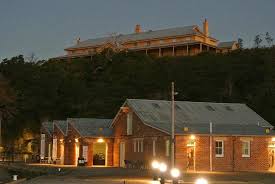 Visit
Q Station
for the spectacular views or book a history, ghost or paranormal tour. The North Head Quarantine Station is a series of heritage listed buildings on the north side of
Sydney Harbou
r
at
North Head

,
near
Manly

.
 It operated as a
quarantine
station from 14 August 1832 to 29 February 1984 and is supposedly haunted by the ghosts of former staff and patients, with many paranormal occurrences reported throughout the site.